The answer to this one depends on what kind of sex toys you want to use and how you want to use them.
If we are talking about dildos and vibrators that are approximately the same size and shape of a penis and are manufactured by a reputable company, using them should be fine for women with uncomplicated pregnancies.
Just don't go crazy with them. Avoid very strenuous, rough use and stop the second you feel any pain.
Other, more exotic sex toys should be evaluated on a case-to-case basis, using common sense and a "better safe than sorry" attitude.
When You Shouldn't Use Sex toys in Pregnancy
There are some caveats to using sex toys while you're pregnant. Firstly, if your doctor has said no sex and/or no orgasm, that means no sex toys either. They aren't a way to skip by on a technicality.
Your vagina and clitoris are off-limits.
Period.
If he says that sex is fine, however, then most of the "mainstream" commercially sold toys should be okay as long as they aren't inserted into the vagina with great force.
Keep 'em Clean
While you should keep your toys clean, pregnant or not, it's especially important to use caution now. Wash them according to the manufacturer's recommendations before and after each use and before moving from the anus or the mouth to the vagina.
Toys can transmit sexually transmitted infections.
If you are using them on a new partner or a partner that isn't monogamous, wash them well before you use them again, or preferably use a protective sheath or condom each time you use the toy.
Be cautious of toys that can get stuck
Lastly, don't use toys that you are not 100 percent certain you can remove. The vagina can swell when you are pregnant, causing small toys like bullets and love balls to be far more difficult to remove.
Do not completely insert vibrators or dildos into the vagina and try to stick with toys with a flared base or a string (like Ben Wa balls) for easy removal.
A trip to the emergency room to remove a "lost" object is likely to be both physically and emotionally uncomfortable.
Exotic Toys are OFF Limits
Of the more exotic toys, I would say that anything that could impede breathing would definitely be a no-go. If you can't breathe, the baby isn't getting oxygen either.
So no asphyxiation toys that purposely deprive the wear of oxygen. Other toys, like gags and masks, aren't specifically made to prevent breathing but can if used incorrectly.
It would probably be best to avoid these as well.
Electrostimulation toys and violet wands are off the table as well. The "below the waist" rule really doesn't work on a pregnant woman. There is a baby below her waist. This baby has a developing heart, brains, and lungs.
Electrical current is extremely unpredictable.
Just don't. Period.
Anything that could cause physical harm to the vagina or abdomen or cause whole-body trauma is also definitely best left until after pregnancy (if ever at all).
This includes the larger "supersized" dildos and vibrators, speculums, and vaginal spreaders and hooks. Slings, hoists and heavy bondage toys (especially belts) are probably also not safe.
Basically, if there is even a shadow of a doubt that a sex toy is safe, don't use that toy until your doctor gives her ok.
It may be embarrassing showing up at the surgery with all your toys in hand but it's best to be cautious about what you use for sexual stimulation when you're pregnant.
What do you think? Have you given up sex toys for pregnancy or are you carrying on as normal?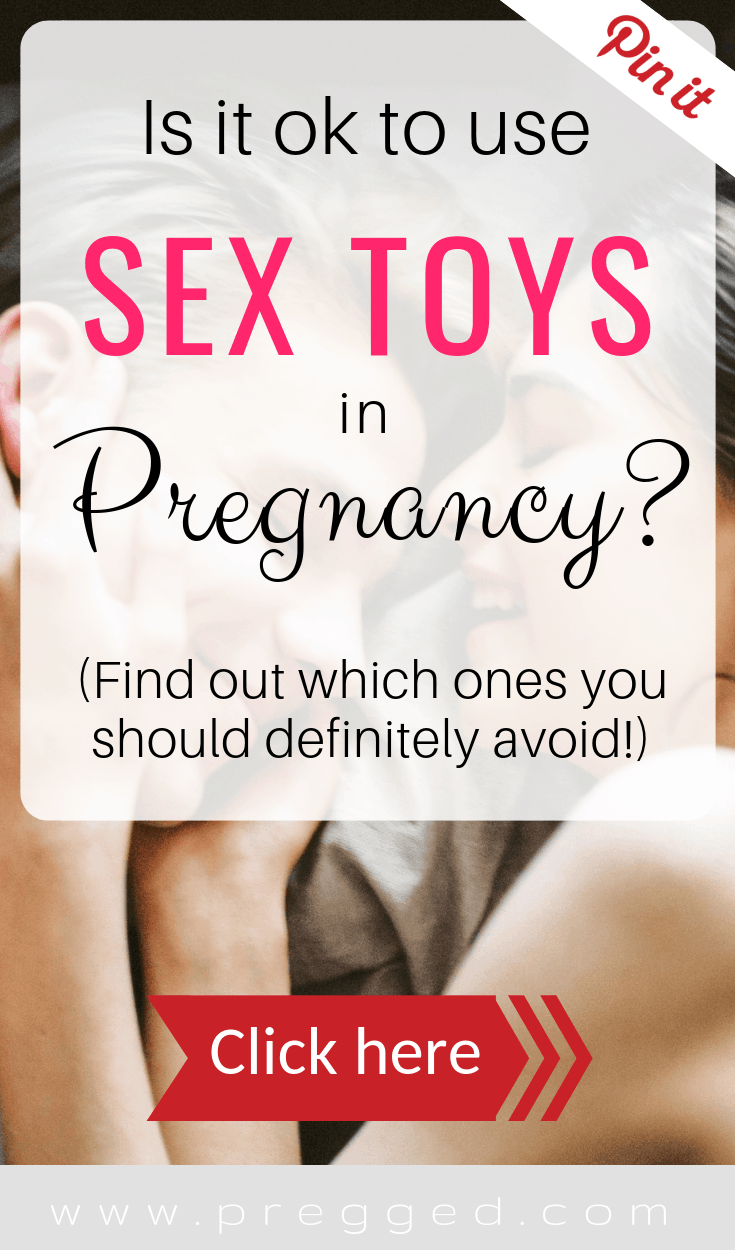 Sources: