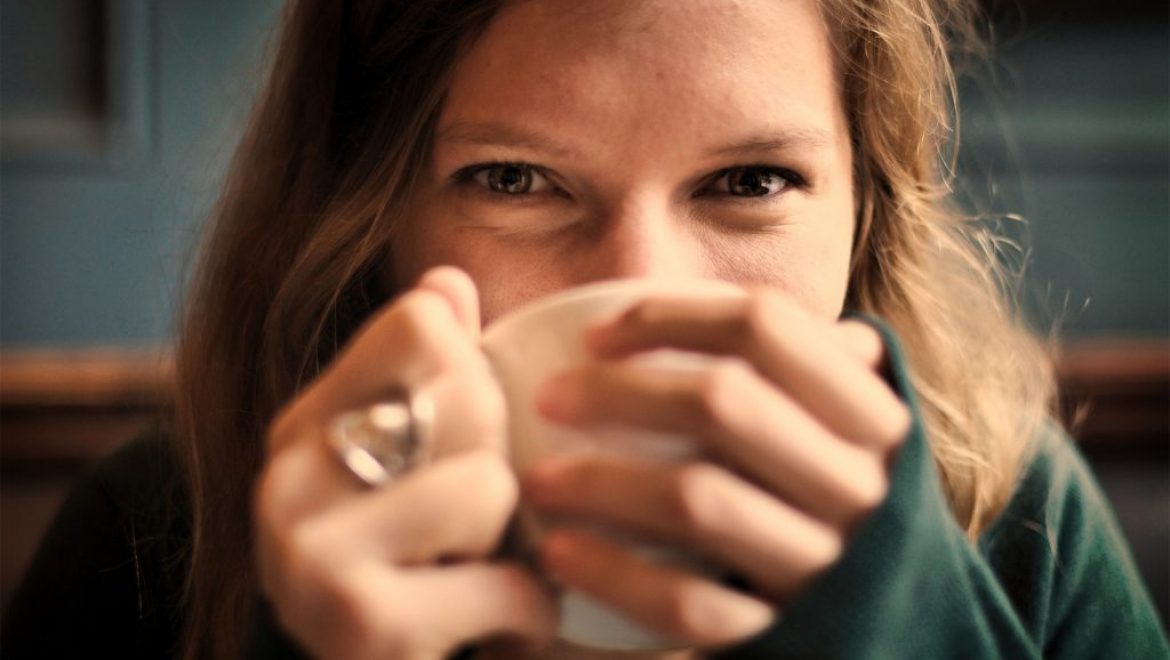 Disclosure: Some of the awesome products in this post use affiliate links which means we may earn a small commission if you make a purchase.
When you're a new mom-to-be it's hard to know exactly what you're going to rely on in the postpartum period. So we asked thousands of moms in our pregnancy support group what their most relied upon and most used product was after they had their baby.
What was their number product recommendation for new moms?
These are the favorite products Moms said they absolutely could not live without in the first six months postpartum.
Some may surprise you!
As you might guess several items got more than one vote and were classed as super essentials by quite a few moms.
Because we all have different needs and wants these may not be your essential postpartum items but we're sure you'll get a few ideas!
The 10 Super Essentials
1. Coffee – Moms have two beverages of choice. The first is coffee. The second is not much farther down the list!
2. A Keurig Coffee Machine – The coffee is a given, but for the nicest coffee you need a decent coffee maker. The Keurig was mentioned by several moms as their favorite.
3. Wine – Mom's second most favorite beverage is wine. A little glass now and again will help relax you but don't go mad. You will need your wits about you at 3 am.
4. A REALLY Big Water Bottle – "I had NO idea how thirsty breastfeeding would make me. Plus drinking plenty will help keep your energy levels up."
5. Yoga Pants – It's not surprising to see this essential mom-wear on the list. A few pairs of comfortable yoga pants will see you right. Especially if they have a little extra tummy control.
6. Dry Shampoo – Finding time to get in the shower can be extremely tricky to say the least. That's why dry shampoo is a must have.
7. Bamboo Nursing Pads – Because they're way nicer and more comfortable than disposables. Plus they're better for the environment.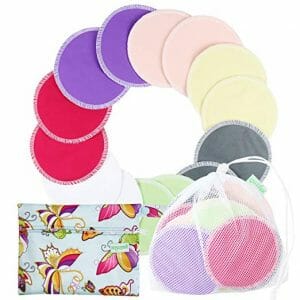 8. A Jogging Stroller – Some moms like to keep fit and a jogging stroller is one way to do that. They don't have to be expensive either.
9. A REALLY Good Bag – Moms talked about all sorts of bags they liked, almost as if they were best friends. Diaper bags, pumping bags, crossover bags, backpacks – they were all on the list somewhere.
10. A Very Comfy Mattress & Pillows – "At the end of a tiring day with my little I couldn't wait to get into my lovely comfy bed and just flop. I bought a new mattress and pillows during pregnancy and I'm so glad I did."
---
So those were the top 10 items moms said they needed in the postpartum period.
Find out exactly what else you might need to keep you sane as a first time Mom.
11. My Subscription Box – "I was bought this as a gift and I so looked forward to my subscription box every month. It was always packed with surprise goodies that made me feel good!"
12. Kindle Books – "While feeding baby throughout the night I would read. It would help me relax and I got through so many good novels."
13. Comfy Lounge Clothes – Comfort is the most important thing with clothes in the first few months at least. Get ones that can double as PJ's if possible.
14. A Cupboard Full of My Favorite Snacks – "You've gotta keep your energy up and there's not always time to cook. I had a good supply of healthy (and not so healthy) snacks available like nuts, protein bars,fresh fruit, dried fruit, crackers and chips."
15. A Belly Wrap -" I could not imagine my postpartum without belly binding, just for the comfort if nothing else. I had a c-section and it was so supportive."
16. My Diaper Caddy – "I keep my diaper caddy next to me wherever I nurse. I make sure it's stocked with burpee cloths, lanolin nipple cream, nursing pads, baby nail clippers, nail file, diapers, wipes and changing pad. Get one with nice handles so you can carry it with one hand."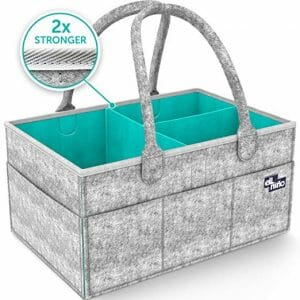 17. A Moby Wrap – "I didn't have any wrap or carrier with my first baby and I never felt like I could get anything done. Then with my next baby I got a Moby wrap and I could do the dishes, fold laundry, go grocery shopping without any worries. It was a real lifesaver!"
18. Nursing Tanks – "I couldn't live without my nursing tanks. So comfortable! They keep my boobies in the right place and give enough support. I wear one in the day and then change into a new one at night."
19. Comfy Flip Flops – "I couldn't bend down after my c-section so the only thing I could get on my feet was my flip flops."
20. Ergo Baby Carrier – "I was so glad I bought a baby wrap as my baby wanted to be close all the time. I went for the Ergo because it had the best reviews and I really love it."
21. A Power Strip (with Lots of Sockets) – "I always have a million things plugged in by my bedside – phone, pump, light, white noise machine and tablet so I treated myself to a decent sized strip."
22. A Good Nightlight – "This was one thing we forgot to buy pre-baby but it was clear from very early on that we needed a good nightlight. You don't want bright lights on at night but you do need to be able to see!"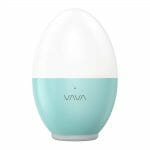 23. Healthy Food – "I am breastfeeding so I was conscious of eating a good diet for my milk quality. Eating well also gave me more energy."
24. Gym Membership – "Going to the gym has been my lifesaver. It gets me out of the house on my own for an hour and it's helping me get back in shape."
25. A Herbal Heating Pad – "I needed this to helps relax my sore back and neck muscles. It was a quick way to do something nice for myself and help me chill out."
26. Netflix – "All those late nights breastfeeding on my own, early wake up calls and being at home a lot in the early days, honestly the TV kept me company and kept me sane!!"
27. Night Time Nursing Bras – "I needed something to keep my breast pads in place because I was leaking all over the bed. I wouldn't be without my Kindred Bravely night time nursing bras."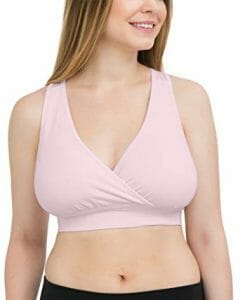 28. My Kindle – "I used to get bored sitting up nursing at night. Then I rediscovered my Kindle and it totally transformed my night times!"
29. My Phone – "Seriously, having a baby is isolating, especially if you are the first in your friend group to have kids like I was. My phone let me text, Facebook, etc so I still felt connected even though I wanted to stay home more."
30. Rosehip Face Oil – "Pregnancy dried my face up and I needed the extra moisture. The face oil that I loved the most was this rosehip one."
31. My MacBook – "I use my Macbook for everything from work, to social media, to researching different topics. Being a SAHM and working around my baby means I need a laptop that I can rely on."
32. Amazon Prime – "I'm a total Amazon girl. Whatever I need that's my go to place to buy, plus I had my registry on there, it so I thought it was about time I got Amazon Prime. It's saved me SO much money over the last 6 months."
34. Converse Slip-ons with Laces – "Comfy shoes that are easy to get on and off (ideally hands-free!) are my top must have. My converse slipons are the best."
35. Crossbody Bag – "I have a diaper bag but I also have a small crossbody bag that I take my personal bits out in so they are easy to get to."
36. Fitbit – "My fitbit helped me keep track of how many times I was up every night and for how long!"
38. Epsom Salts – "Bathing is my number one way of de-stressing and I love an epsom salt bath for an extra treat. I sleep so soundly afterwards."
36. Apple Watch – "I use it for everything! Streaming music, listen to podcasts, talking to people, social media, use as a nightstand clock and flashlight. I thought I would hate it but I actually use my Apple watch all the time."
37. Planner – "I will always prefer to stay organized with pen and paper, doesn't matter how many electronics I own."
38. Sarah Wells Breast Pump Bag – "My pump bag was expensive but worth every penny."
39. Some Good Bath Products – "I don't get much time to pamper myself nowadays but I do love some good quality bath products for half an hour of me-time."
40. My Whole Food Capsules – "Without these my energy would never be as good!"