Most children do not consider themselves to be 'a pain in the butt' although parents might sometimes disagree.
However, they sure can be a source of butt pain while in the womb.
For each child that a woman births either naturally or by cesarean, expect hemorrhoid or two.
Hands down, hemorrhoids are the most common source of rectum pain during pregnancy.
What Causes Rectal Pain During Pregnancy?
The reason is pretty simple—the uterus expands in size, the baby keeps growing, the placenta weighs another pound or so, the amniotic fluid increases throughout.
Before you know it, there is an extra 10-20 pounds of downward force or pressure on the blood vessels in the rectum, pelvis, and legs.
Constipation and Pressure
Constant pressure and constipation are common throughout pregnancy – even early on – which results in blood vessels in the rectal walls that swell, causing rectal throbbing, itching, and pain.
Before you know it, the wall of the rectum pushes out into a little sac called hemorrhoid.
They can bleed after bowel movements or even in between.
They aren't serious, but they sure hurt.
Below is a short video about constipation home remedies:
Stabbing and Shooting Rectum Pain During Pregnancy
If you notice stabbing or shooting rectal pain, that may mean that a blood clot has formed in the hemorrhoid sac.
Blood clots may need to be removed with a small incision which definitely isn't fun.
You won't be able to sit for long periods after the blood clot is extracted unless you are sitting on an ice pack that is soft and malleable.
There is a thing called a 'donut' which looks like a small life preserver that is filled with air and has an opening in the middle to prevent additional pressure on the damaged hemorrhoid.
Related Content: Pregnant And Have a Stabbing Pain in Vagina? What is it?
Prevention of Pain in the Rectum and Anus
The best way to prevent rectal pain and hemorrhoids is to keep very well-hydrated because of the water demands of pregnancy increase by over 50%–due to the increased blood volume.
That means that you must drink twice as much during pregnancy.
Another key behavior is to increase your fiber intake which keeps the bowels moving by preventing constipation.
If your prenatal vitamin has iron in it, you may want to add a stool softener because iron binds up your stool and makes it hard.
Talk to your doctor about the best choice.
Prolonged standing, sitting, and straining on the toilet are additional reasons for increased rectal pressure and pain.
One of the best ways to stop or prevent constipation is with activity like a brisk walk.
Keep on moving throughout pregnancy (unless your doctor prescribes bed rest for some other reason) because that will strengthen your abdominal muscles or core—all essential for the labor and delivery process.
You want strong abs when you are pushing out your bowling ball of joy.
The longer time it takes to push the baby out, the more your hemorrhoids will swell, and it takes weeks even months for them to shrink.
It's not uncommon for the pushing stage to last 2-3 hours if you are a first-time mom.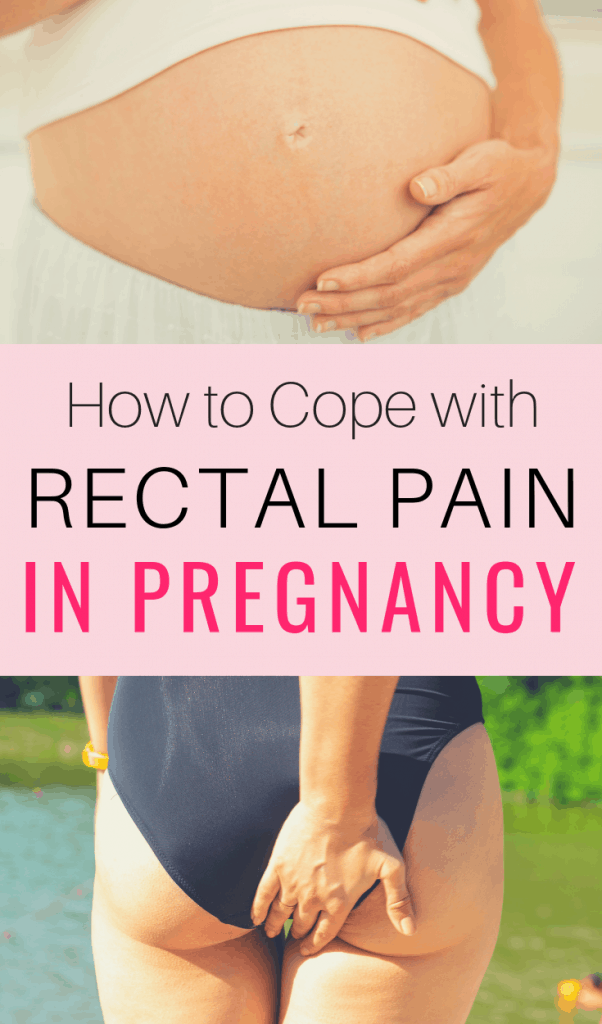 More Types of Pain in the Rectum, Groin and Lower Back
Besides rectal pain and pressure, low back pain and round ligament pain adds to your misery during pregnancy.
Round ligament pain is groin and abdominal pain that tends to start around 20 weeks and is due to a sudden movement of direction such as twisting or getting out of a chair.
Back pain can be from the strain on the lower back as the uterus and baby protrude forward, outward, and backward.
Or, back pain can be due to pressure in the rectum and tailbone.
The hormones of pregnancy make the joints looser which can make you prone to excessive stretch that causes nerves of the vertebra (spine) and hip joint to become inflamed, causing pain.
And one final source of butt pain is a condition known as sciatica which is due to swelling and stretching of the largest nerve in the body called the sciatic nerve which supplies all the nerves to the legs.
The additional pressure on this nerve is near an opening in the pelvis and results in:
Throbbing
Burning
Pain in the butt
Pain in the back of the upper thigh
Bending over or curling up in a ball make this pain worse.
Treatment Options for Rectal Pain in Pregnancy
Practically the only medication that you can take for the pain of any sort in pregnancy is acetaminophen orally, topical lidocaine, and topical nitroglycerin; the last two are Category C in pregnancy so you will need doctor approval for those.
Will the Pain Go Away?
Don't worry about all of these changes because the body has an amazing ability to heal and return to normal after childbirth.
As you know, prevention is easier than dealing with the consequences of constipation.
Drink, drink, drink, and then drink some more.
It might seem counter-intuitive, but the swelling is reduced, not increased by proper hydration because the salt content is equalized.
That prevents fluid from pooling in the tissues of the rectum, butt cheeks, and lower legs—all of which can lead to hemorrhoids, sciatica, and swollen veins or varicose veins in the legs and that's rectum pain during pregnancy!
References
Gibbons CP, Bannister JJ, Read NW. Role of constipation and anal hypertonia in the pathogenesis of hemorrhoids. Br J Surg. 1988 Jul. 75(7):656-60. [Medline].
Johanson JF, Sonnenberg A. The prevalence of hemorrhoids and chronic constipation. An epidemiologic study. Gastroenterology. 1990 Feb. 98(2):380-6. [Medline].
[Guideline] Russell MM, Ko CY. Management of Hemorrhoids: Mainstay of Treatment Remains Diet Modification and Office-Based Procedures. National Guideline Clearinghouse. Available at http://guideline.gov/expert/expert-commentary.aspx?id=37828. Accessed: October 11, 2014.
Moesgaard F, Nielsen ML, Hansen JB, Knudsen JT. A high-fiber diet reduces bleeding and pain in patients with hemorrhoids: a double-blind trial of Vi-Siblin. Dis Colon Rectum. 1982 Jul-Aug. 25(5):454-6. [Medline].
Hollingshead JR, Phillips RK. Hemorrhoids: modern diagnosis and treatment. Postgrad Med J. 2016 Jan. 92 (1083):4-8. [Medline].
Gorfine SR. Treatment of benign anal disease with topical nitroglycerin. Dis Colon Rectum. 1995 May. 38(5):453-6; discussion 456-7. [Medline].
Saleeby RG Jr, Rosen L, Stasik JJ, Riether RD, Sheets J, Khubchandani IT. Hemorrhoidectomy during pregnancy: risk or relief?. Dis Colon Rectum. 1991 Mar. 34(3):260-1. [Medline].
Wheeler AH, Murrey DB. Spinal pain: pathogenesis, evolutionary mechanisms, and management, in Pappagallo M (ed). The neurological basis of pain. New York: McGraw-Hill; 2005. 421-52.
Anderssen GBJ. Epidemiologic features of chronic low back pain. Lancet. 1999. 354:581-5.
Anderssen GBJ. Frymoyer JW (ed.). The epidemiology of spinal disorders, in The Adult Spine: Principles and Practice. New York: Raven Press; 1997. 93-141.
Nachemson Al, Waddell G, Norland AL. Nachemson AL, Jonsson E (eds.). Epidemiology of Neck and Low Back Pain, in. Neck and Back Pain: The scientific evidence of causes, diagnoses, and treatment. Philadelphia: Lippincott Williams & Wilkins; 2000. 165-187.