Disclosure: We may earn commission from some of the links in this post at no cost to you. Read our T&C's for more info.
There's no denying that the first days and weeks postpartum are pretty sore and uncomfortable. Exactly where you're feeling sore and uncomfortable will depend on what kind of birth you've had, and to some extent how you're feeding your baby.
But regardless of those factors I can guarantee that your boobs, butt, VJ and stomach are all going to need at least some help!
So I've separated my list of the best postpartum products into 5 sections:
Vag
Boobs
Butt
Stomach
Other Stuff
The following items are the ones I recommend to postpartum moms so that you can recover as quickly as possible, stay happy and comfortable, and focus on enjoying your beautiful newborn baby.
1. Assistance for Your Vag
BIG Cheap Panties
You're going to bleed A LOT after having a baby and the last thing you want to worry about is ruining your lovely Victoria's Secret panties.
Your postpartum panties need to be big enough to accommodate some really big sanitary towels and you'll also want extra support around the tummy area.
With the last few babies I've bought a set or two of big BLACK panties for the postpartum period and then if they get too messed up I throw them away (around 4-5 weeks post birth).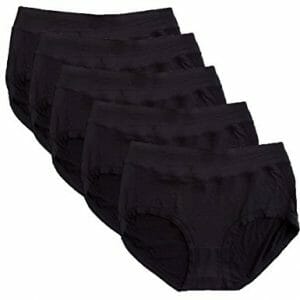 I recommend something like these Women's Bamboo Viscose Fiber Panties. They're big, soft, supportive and extremely comfortable.
They'll definitely keep your mega sized sanitary pads in place and if you've had a c-section they won't hurt your wound.
They're also cheap enough that if you leak badly, you can throw them away without feeling too bad about it.
BIG Sanitary Pads
Did we say big, we meant HUGE! I recommend incontinence pads or incontinence briefs for the first week because they are much less likely to leak.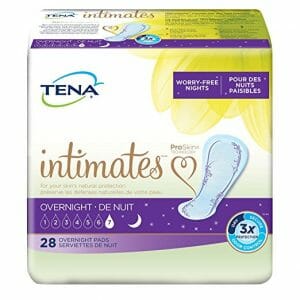 TENA Serenity Overnight Ultimate Pads curve with your body so that they don't rub against you. They stay in place, even if you are chasing a toddler.
Because they are incontinence pads they hold more and absorb faster, both of which comes in handy when dealing with the after effects of having a baby.
Disposable Bed Protector Pads
Take it from me when I say you will bleed A LOT after having a baby. Whether you've given birth vaginally or via c-section doesn't make a difference.
The first week is the worst and many a mattress has been ruined by leaking blood (hands up here to two mattresses stained).
These Depend Disposable Bed Protectors are not only absorbent they are also wide enough cover your entire sleeping area.
The best thing about them is that they will stay in place as you get up and down with your new little one. It's definitely worth getting a pack of these to keep your bed stain free.
Post Partum Witch Hazel Pads
It's a toss up between these and the or dermoplast spray. They're both great for sore stitches and/or hemorrhoids.
Not only do the witch hazel pads help with painful stitches but a wipe with these after using the bathroom also helps to prevent your pad from sticking to sensitive lady parts.
Thayers Original Witch Hazel Astringent Pads With Aloe Vera Formula don't sting and are large enough to gently pat your lady parts without pain.
The Mom Washer
This little invention is brilliant for using when you pee to prevent stinging after stitches. Fill it up with warm water and then gently spray as you pee. It stops the intense OUCH! of pee on stitches and helps to keep the area nice and clean without having to wipe. Just pat dry afterwards.
Kegel Exercise Balls
Hmmm really? Well for some moms Kegel balls are an essential product for postpartum recovery of their vaginal muscles.
They can really help you to regain control of your bladder and pelvic floor muscles after all the stretching they've been through. Just don't start using them until at least 12 weeks postpartum.
After doing the exercises for just a couple of days you'll notice that your pelvic floor gets tighter and you won't leak when you sneeze either. There are a lot of different choices for Kegel balls but I liked these.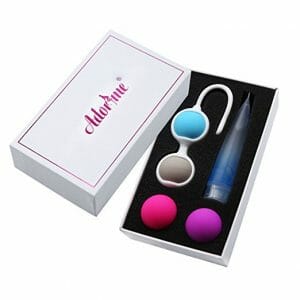 2. Butt Saving Must-haves
Stool Softener
No one ever tells you how scary it is to poop after having a baby. If you've had a vaginal birth, it does feel like all your insides might fall out when you're sitting on the toilet.
You can end up holding it in way too long which quickly leads to constipation making it even harder to poop.
Pooping is no better after a c-section either.
Any squeezing of stomach muscles is incredibly painful for the first 3-4 weeks.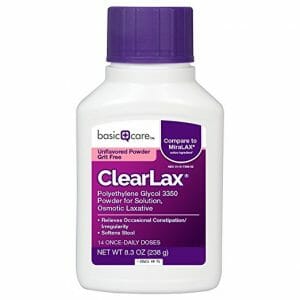 I tend to rely on Miralax for the first week or two postpartum but this unbranded option is just the same at half the price.
It's an osmotic laxative so it's safe to use in pregnancy and when breastfeeding and it doesn't cause cramps or painful gas.
Hemorrhoid Ointment
One very common result of all that intense pushing during delivery is hemorrhoids. Those pesky little things can cause all manner of itching, pain and discomfort.
If you're unlucky enough to get them I'd recommend going for the Max Strength Preparation H. It'll help shrink them right down, soothe itching and pain and eventually help them disappear altogether.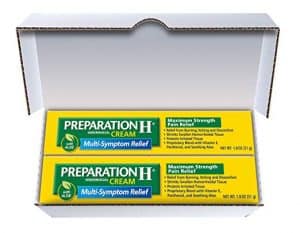 3. Boob Care
Nursing/Breast Pads
Disposables or washable? I suggest disposables if you're not breastfeeding because you'll only need to use them for a couple of weeks while you wait for your milk to dry up. But if you're breastfeeding, it's definitely worth getting washable breast pads.
You do leak a lot once your milk comes in and it may continue for many months afterwards.
Expect to change your nursing pads at least 3 – 6 times a day for the first few weeks.
There are a lot of brands of reusable nursing pads to choose from. Personally I like the feel of bamboo against my skin as it's super soft. These Washable Reusable Bamboo Nursing Pads are contoured to the shape of your nipple and come in a pack large enough that you have a several days supply.
You get two styles of pad – circular and flower shaped, a storage bag and a washing machine bag so they don't get lost in your pillow cases too.
Lansinoh Nipple Cream
No matter how well you are latched, how great your posture is, sometimes your nipples hurt. Lansinoh Breastfeeding Salve eases the soreness of your nipples while it helps to heal cracked or bleeding nipples.
I don't know what I would have done without this amazing stuff.
Maternity Sleep Bra
Whether you're breastfeeding or not you need to take good care of your boobs. You'll need to wear breast pads for at least the first couple of weeks to save leaking all over your bed so a comfy night time bra is essential.
Don't be tempted to wear your normal everyday bra, or even your daytime nursing bra at night.
They are generally a tighter fit and can cause milk blockages and even mastitis by preventing the flow of milk (I know this because it happened to me).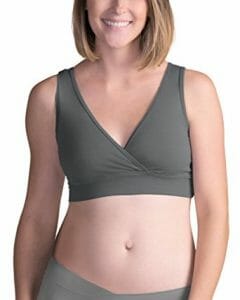 I so love the Kindred Bravely brand of maternity products so they were the obvious choice for my postpartum night time bras. The French Terry Racerback Nursing Sleep Bra is sooo comfortable and moves with you so that you don't really feel like you're wearing it.
The material is super soft and doesn't rub or cause pressure to already sensitive nipples and there's enough support to feel supported whilst keeping those nursing pads in place.
Gel Ice Packs
I've put these in the boob section but they can also be used in the vag area for store stitches.
These gel packs are incredibly handy for sore breasts, engorgement, plugged ducts and mastitis. There's no getting away from the fact that your breasts are probably going to be sore at some point. Clogged ducts hurt worse than you might think and mastitis can be excruciating.
Something as simple as these Round Reusable Gel Ice Packs With Cloth Backing can make your life so much less painful.
They can be used hot or cold, although hot usually works best for postpartum breast problems, but find what works best for you. The shape is great as they fit nicely into your bra.
A definite must have for your postpartum survival kit.
4. Help for Your Postpartum Tummy
Peppermint tea or capsules
These are a must have for trapped wind and gassiness post c-section. No one tells you that c-sections cause gas! But I can't describe the terrible pain of trapped wind as a result of a cesarean. Peppermint offers a great relief.
Nature's Way Peppermint Leaf Capsules taste good, are easy to swallow and can help digestion issues in general.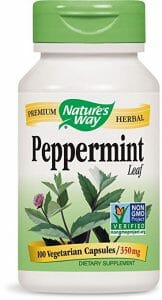 C Section Recovery Belt
I haven't used a postpartum belly binder or girdle myself but I know lots of moms who've had a c-section say they wouldn't go without one. The Paz Wean Post Belly Band Postpartum Belly Binder shown below is a popular choice. It's not too expensive and is one of the most comfortable brands.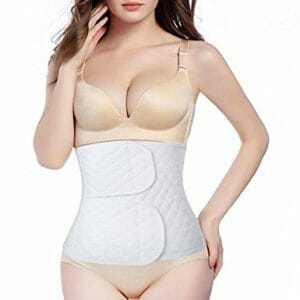 5. Other Postpartum Essentials
Old Loose Clothes
Even using those heavy duty sanitary pads I recommended earlier you may still leak in the first week or so, so it's best to wear loose comfortable clothes that you don't mind getting a bit messy.
Pack away your hospital wear and pull out your old sweats and yoga pants. This isn't a beauty contest, it's all about comfort.
Not that anyone will notice what you're wearing, they're here to see the new bundle of joy.
BPA Free Water Bottle
You probably already have a water bottle but if not it's time to get one! It's very important to drink plenty of water during your postpartum period. It helps you to heal faster and if breastfeeding you'll need more liquids than usual.
A water bottle that you love will help you to keep track of the water you drink as well as help to encourage you to drink plenty.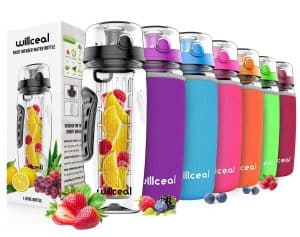 I have a couple of different BPA Free water bottles. I love them both, but my Willceal Fruit Infuser Water Bottle is probably my favorite because I can add fruit to my water which helps it taste better.
With a capacity of 32 oz, it's a nice big size too which means fewer trips to the sink.
Epsom Salts
Epsom salts are made from mineral magnesium and are used for bathing, relaxing and to aid healing. There is nothing better than a good soak to help ease sore muscles and the salts will also absorb through your skin and help you get a good nights sleep.
Another thing I've used Epsom salts for is to ease the engorgement in my breasts after I got home from the hospital.
There's no real difference between brands as far as I can tell so here I've chosen the best value Epsom Salts because you really don't want to be paying more than you have to.
Lastly…
All of the items on this list of the best postpartum products is 100% mom approved. They'll help you ease into the changes going on in your body as you recovery from nine months of growing a baby and the rigors of labor and delivery.