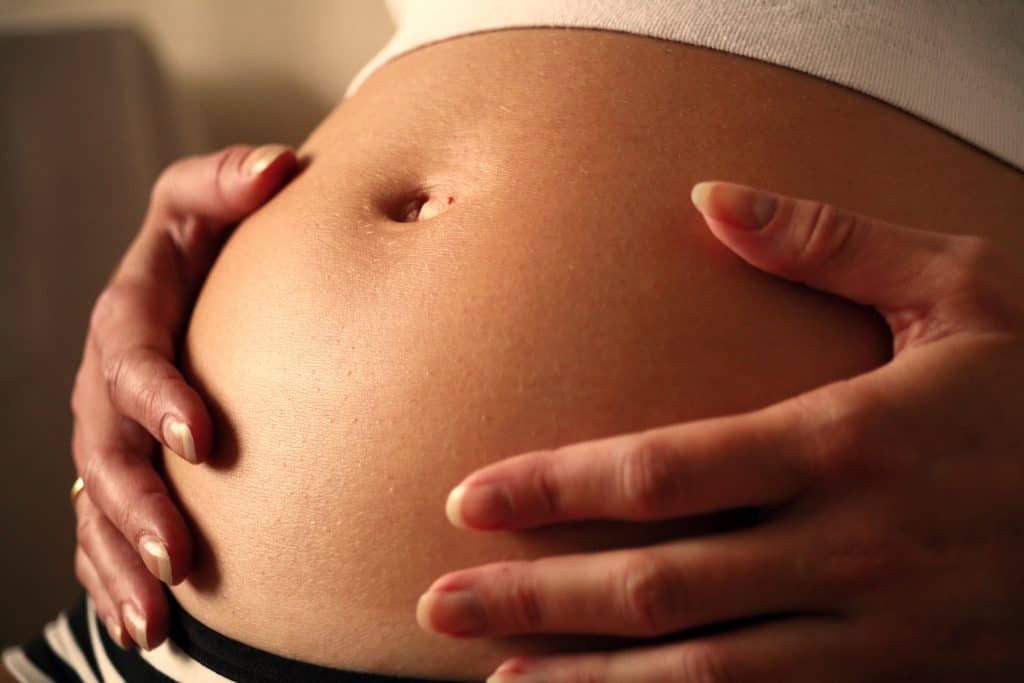 Yes ladies, we're going there. Don't deny it, you've clearly wondered yourself or you wouldn't be on this page – is it normal to poop this much during pregnancy?
Nine times out of ten the answer is yes. Pooping a lot is a normal (albeit annoying) pregnancy symptom.
Most women find it goes one of two ways in the BM department – either you're constipated, or you're going more frequently.
Of course just to keep it interesting, things can then swing back the other way too. Diarrhea one month and constipated the next.
Oh, the joys of pregnancy!
You are very likely to experience changes to your bowel habits during pregnancy, and that includes how many times you actually go to the toilet per day, how big they are (yes some women experience massive poops), what the consistency is like, and you can even poop a rainbow of colors. As we mentioned, pregnancy truly is a wonderful time…
Why Might I be Pooping More During Pregnancy?
Poop may not be something you've talked about or even thought much about before now. And if it is a new topic for you you might feel a little embarrassed sharing your experience with others. Don't let a little embarrassment put you off though. If you're worried, definitely speak to your midwife or doctor, it's something that they'll have a lot of experience with and they'll be able to guide you on the best course of action.
One thing that is normal about being pregnant is that you become hyper-aware of absolutely everything happening in your body.
Questioning whether each symptom is normal or something to worry about is also par for the course. When you don't normally poop more than once or twice a day of course you're going to be concerned.
Let's look at some of the most common reasons you might find yourself pooping more during pregnancy.
1. Hormonal Body Changes
The high levels of pregnancy hormones mean that most of us will experience at least a few unwanted side effects during pregnancy – pooping a lot might be one of them for you. The hormone progesterone has the effect of relaxing muscles and that includes the ones responsible for digestion. The consequence for many women is constipation, but for others it's pooping a lot instead.
2. Supplements (Especially Iron)
Nowadays most of us take a prenatal supplement during pregnancy and these can upset the stomach of some women. Folic acid or folate is super important but you may not need the rest if your diet is good.
Anemia is common in pregnancy and so is the prescription of an iron supplement. Iron is known to irritate the stomach of some women and can cause you to poop more than normal. It's important to carry on taking iron but talk to your doctor about alternative forms of iron you could take instead.
3. Anxiety and Stress
Another reason for an increased number of bowel movements is anxiety and stress. When you first find out you're pregnant, it's totally normal to be nervous and even scared. There's no guarantee that anxiety will go away as you progress through your pregnancy either. If you do feel that anxiety or high stress levels is the reason for your change in poop habits maybe it's a good time to learn some ways to relax.
4. Dietary Changes
Of course, it could simply be down to the change in your diet. When you find out you're pregnant, it's likely that it's a kick to change your diet and look after yourself in a better way. This means eating more fresh fruits and vegetables and drinking more water. All of this can have a direct impact on your bowel movements, and you could very well find that you're heading to the bathroom more often as a result. It could really be that simple, and changing your diet to become healthier is no bad thing anyway.
When Should I be Concerned About Pooping a Lot?
Where's the line between pooping more frequently and diarrhea? Diarrhea is classed as 3 or more stools per day, usually with a watery consistency. If it's simply that you're going to the toilet to poop a couple of times more than you normally would, then there's probably nothing to worry about. But if you think you're suffering from diarrhea then make it a priority to have a chat with your doctor or midwife.
It's important not to ignore diarrhea as you could become severely dehydrated, and depending on the reason for the diarrhea, you may need additional treatment such as antibiotics as well.
Some Common Reasons for Diarrhea
Stomach bug
Food Poisoning
Celiac Disease
Lactose Intolerance
IBS (Irritable Bowel Syndrome)
Alcohol Sugars (such as sorbitol, erythritol, xylitol)
Coffee
Food Sensitivities
Conclusion
Whether your pooping a lot is down to one of the common reasons during pregnancy or is actual diarrhea, you should get it checked out. Especially if it's an acute attack. In most cases it's nothing to worry about and is caused by those pesky pregnancy hormones but it's always worth ruling out other, more serious reasons.