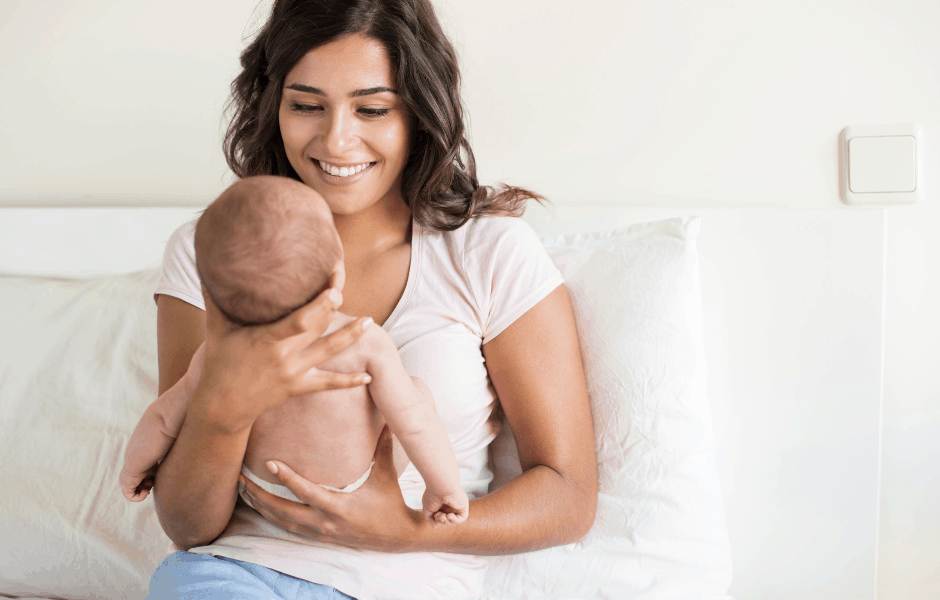 Disclosure: We may earn commission from some of the links in this post at no cost to you. Read our T&C's for more info.
No matter if you had a cesarean section or vaginal birth, you are going to have to deal with postpartum bleeding.
Many women ask us exactly how many sanitary pads they will need and what other products will come in useful.
Here's a quick run down of what we recommend:
Week 1 – 2 x Packs Depend Incontinence Briefs
Week 2 – 2 x Packs Tena Incontinence Pads
Weeks 3 & 4 – 2 x Packs Always Ultra Thing Extra Heavy
Weeks 5 & 6 – 2 x Packs Always Ultra thin with wings
1 x Pack Disposable Underpads
1-2 Packs Big Panties
You can find all of these recommended products below.
How much will I bleed Postpartum?
The bleeding is due to the wound left by your placenta as it came away from the inside of your uterus and it starts off as big as a dinner plate!
This wound means bleeding. Lots and lots of it.
It will probably be much heavier than your heaviest period.
Gradually over the next 3-6 weeks the wound repairs itself and your uterus returns to its pre-pregnancy state.
For the first few days to a week you can expect heavy bleeding that will soak a heavy duty pad or pair of incontinence briefs in an hour or two.
The early postpartum period is the time when you will want to be stocked up on hospital-grade incontinence pads, overnight sanitary pads, and disposable incontinence briefs.
Within two weeks your uterus is about half the size it was.
You will begin to notice a slow-down in your postpartum bleeding after that but you can still expect to soak an overnight sized pad in three to four hours until about week three or four.
Bleeding typically becomes lighter and stops sometime between weeks four to six.
As the bleeding tapers off, you can adjust the size of your pad.
We start with the massive and work our way down to the small!
In the first week expect to pass some blood clots as well as tissue though nothing should be over the size of a quarter.
When you stand up, you will most likely feel a gush of blood.
This sudden rush of blood is normal.
When you are sitting down, you are keeping most of the blood from being released so when you stand up; there is a huge flow that was previously blocked.
If you aren't prepared all this gushing will end up spoiling your panties, your clothes, your chairs, your sofas, your bed linen and your mattress (I know because I've done it!)
So let's avoid all of that mess and take a look at the must-haves for postpartum bleeding, including exactly how many of each product you're going to need.
1. Incontinence Underwear or Incontinence Pads
These may be incontinence underwear but for the first week, they are going to be your best friend.
Not only do they provide you with complete coverage, but they are also perfect for catching sudden flows, especially overnight as you try to get some sleep.
Depend postpartum underwear are comfortable and easy to get on and off. They are also soft on episiotomy stitches.
The fact that you can throw them away only adds to their convenience levels. You don't want to wear your favorite panties during the first week; they are likely to be ruined.
Depend incontinence underwear come in packs of thirty.
You are going to need at least six that first day, so it would be a good idea to plan on using a full pack for the first week. If you want to the security of them in week two then buy another pack.
Buy Depend Night Defense Incontinence Underwear here
---
If you can't bring yourself to wear incontinence underwear, incontinence pads are a great substitute. They are bigger and more absorbent than large sanitary pads and will provide the protection and absorbency you need..
Tena Intimates incontinence pads are soft to the touch and are gentle on sensitive areas.
They are not scented so you'll have no worries about yeast infections or irritation. They're also pH balanced to absorb smells.
Although they are longer and wider than sanitary pads they can fit in your underwear comfortably without feeling bulky.
These come in a pack of twenty-eight. I would make sure you have three packs on hand for the first three weeks. After that you can start using smaller pads.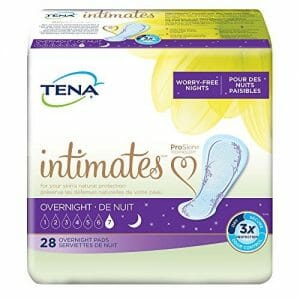 Buy Tena Intimates Incontinence Pads here
---
2. Large Sanitary Pads
As you are picking out your large sanitary pads keep in mind to choose unscented to avoid yeast infections.
Always is the go-to brand of pads for a lot of new moms because they are super absorbent and they are thin enough to be undetectable under your clothing.
The wings wrap nicely around your panties and make sure the it stays in place. They do a good job of keeping leaks from running out the side of the pad.
These pads come in a pack of forty-six. If these are the only product you plan on using, then you will need to get two packs a week for the first two weeks and then one pack a week for the next four weeks.
That makes 8 packs.
However, if you are using them in combo with the underwear or larger pads and the smaller pads for weeks 4-6 two packs will be enough.
Buy Always Ultra Thin Extra Heavy Pads here
---
3. Washable Mattress Protector or Disposable Bed Pads
No matter what you do you may end up with leaks. They can ruin your sheets, your night and your mattress!
Bed pads and mattress protectors ensure that your bed sheets and mattress remain stain-free.
Washable mattress protector pads are great to have because you can wash them immediately and not have to worry about remaking the whole bed.
You will want to have two of these, so you have one that you can use while you are washing the other.
We also love these to help with leaking breasts in the first few weeks.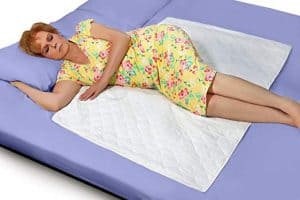 Buy Washable Mattress Protector here
Disposable bed pads, also called chux pads, are easy to use and come in very handy for the first few weeks postpartum.
Active Care makes some that are the perfect size that allows them to stay in place when you move in bed.
Keep the pack close by so that you can throw away the used sheet and a new one to put on your bed conveniently.
This pack of disposable bed covers contains 18 sheets. You are going to need one or two packs of these.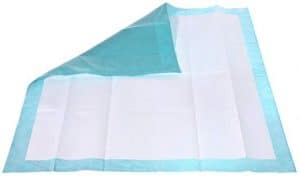 Buy Active Care Disposable Underpads here
---
4. Big Supportive Panties
These panties are made of breathable cotton, but have just enough spandex to hold your pads and everything else in place.
These supportive panties come in a pack of eight. You might want to have two packs on hand, especially if you don't plan on using the disposable underwear.
Buy Stretch Cotton Panties here
---
5. Smaller sanitary pads
Always Ultra Thin comes unscented to help prevent yeast infections.
You will want to have these on hand for the final couple of weeks of your postpartum bleeding.
The thirty-eight pads in each pack should last you a week so two packs should be enough.
The wings nicely prevent side leaks and keep the pad in place so that it doesn't rub sensitive areas.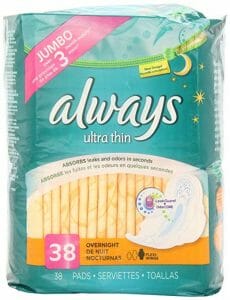 Buy Always Ultra Thin Pads With Wings here
---
So there you have the full rundown of the must-have products for dealing with postpartum bleeding.
Seeing that much blood may be a surprise if you are a first-time mom but it is completely normal.
Remember that you will want the disposable underwear or large sanitary pads in your hospital bag. Go ahead and take a whole pack with you for your hospital stay.
When you get home, you will want to have the mattress covers close by your bed.
It is also a good idea to keep panties and extra pads in your diaper bag for when you go out just in case of any accidents.
Don't get caught out in the postpartum period or underestimate how much you will need sanitary protection.
You'll have enough to deal with and if you follow this advice bleeding won't be something else to worry about!